Sun-Mar Self-Contained Composting Toilet
Excel
The Excel is the best-selling unit in North America and for good reason. It is a high capacity Bio-drum toilet that is very simple to operate, features well proven technology and is extremely reliable. The Excel was the first ever self-contained composting toilet to be certified by the National Sanitation Foundation (NSF). So, when you purchase an Excel, you are literally purchasing a composting toilet that sets the standard.
The Excel has enough capacity that it can be used just about anywhere: in residences, cottages and even in light commercial applications.
To simulate residential use the Excel was tested by the NSF at maximum capacity for 6 continuous months, during which the Excel produced no odour and produced a clean, safe compost. Only Sun-Mar self-contained units are listed for residential and cottage use by NSF, whose Standard #41 is the toughest composting performance standard in the world.
The 2" vent is attached at the top back of the Excel and can be installed invisibly by running it through the wall and up the outside wall. For comfort the Excel has a sturdy detachable footrest which can be removed to pull out the finishing drawer.
In normal use the Excel can normally evaporate all liquids, however a ½" emergency drain is fitted at the rear and this should be connected if the unit is to be used residentially or heavily, or if prolonged power outages are expected.
Compact
The Compact is an elegant low profile unit with the looks to complement any bathroom. Sun-Mar engineers designed this low profile toilet by developing and patenting a new variable diameter Bio-drum which is small at the front and large at the rear. To maintain the uninterrupted lines of the Compact, a patented Bio-drum handle recesses into the body of the unit to mix and aerate the compost.
The Compact differs from the Excel in that all three chambers are smaller, which makes the Compact ideally suited to light residential or light to medium cottage use.
As with the Excel, a 2" vent stack attaches to the rear of the Compact. A 1/2" emergency drain at the rear offers protection against heavy or residential use, or prolonged power outage.
Excel NE
The success of the Excel design meant that a three chamber unit could be specifically designed for those with NO continuous 110 volt supply. First launched in 1981, the Excel NE has long been the standard toilet for those living off the grid. A 1998 redesign gave the unit a rounded look, and recessed the drum handle.
The Excel NE has no fan or heater. Odorless operation is achieved by a 4" vent mounted at the top rear of the unit which acts like a chimney on a wood stove. For good air movement the vent should be installed vertically and to 2-3 feet above the peak of the roof.
The optional 12 Volt Fan should be installed if you need to install the toilet with any bends in the vent. No more than 2 45° bends are encouraged, even with the fan.
If the Excel NE is used residentially or heavily, or is in a place which is subject to downdraft, the optional 12 volt fan should be installed in the vent stack. This fan draws 1.4 watts and can be powered by a solar panel and 12 volt marine battery.
Evaporating capacity on the Excel NE is variable, so the 1" drain at the rear should be connected to an approved drain pit, container, or other facility.
Technical specs for Excel, Compact and Excel NE models ::
| | Excel | Compact | Excel NE |
| --- | --- | --- | --- |
| Capacity : | Residential/Continuous (Adults/Families) 3 adults or families of 5 OR Seasonal/Vacation (Adults/Families) 6 adults or families of 8 | Residential/Continuous (Adults/Families) 1 adults or families of 2 OR Seasonal/Vacation (Adults/Families) 3 adults or families of 4 | Residential/Continuous (Adults/Families) 2 adults or families of 3 OR Seasonal/Vacation (Adults/Families) 5 adults or families of 7 |
| Maximum Amps (With Heater On) : | 2.4 | 2.4 | n/a |
| Average Power Use in Watts (Heater on 1/2 time) : | 150 | 125 | n/a |
| Product Weight/Shipping Weight (Lbs.) : | 60/100 | 50-90 | 50-95 |
| Shipping Carton Dimensions (W by L by H) : | 28" by 36" by 36" | 28" by 35 1/2" by 30 1/2" | 28" by 35 1/2" by 36" |
| Depth Required to Remove Drawer : | 48" | 45" | 46" |
Rough-in Diagrams
Excel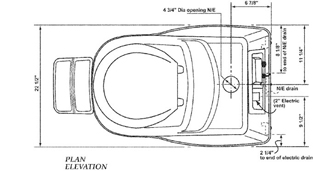 Compact
Excel NE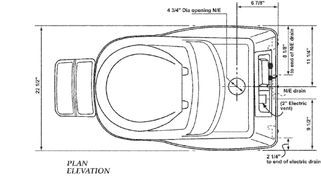 Testimonials
"We've been using the outhouse for over 60 years at our cabin in the Adirondack mountains of Northern NY & still do not have running water. We really appreciate the Sun-Mar Excel, especially on cold early Spring mornings and late fall mornings. Installation on the second floor was easy with no expense for septic system or water system. Has worked well with 10-12 people in the cabin for 2 week stays in the summer."
Everett Godfrey
Excel, Installed 2000
Installed at Cabin Near Cranberry Lake, NY
"We are very pleased with the Sun-Mar Compact electric. We have been using it for 2 years and I have had no problems. Sometimes as many as 20 people use it in one day and it holds up very well. "
Sherman, CT
Compact
Farm Winery, Installed 2001
"Our Excel-NE is an excellent addition to our primitive Colorado mountain cabin. It is odor free and simple to install. The ladies and grand kids appreciate it, especially during the winter. They don't have to make the 75 yard trip to the outdoor toilet."
Don Schmidt
Excel-NE, Installed 2001
Installed at mountain cabin, Colorado
Warranty
All units carry a full 5 year replacement warranty on the fiberglass tank and a comprehensive 3 year replacement warranty on all other parts.
Our 14th year. Over 38,000 Reel Mowers Sold
Now in our 14th year, we are proud to have sold and supported over 38,000 mowers. People Powered Machines is more than an eco e-tailer, we are a long standing company with real people that support our products. We are totally committed to reducing gas mowing, noise emmissions, and returning pleasure to backyards everywhere! Let us know if we can help you with your decision in any way.