Reel Mower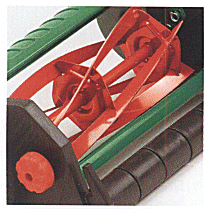 A Reel Mower is a mower in which the blades spin vertically (north to south) and use a scissoring action to cut the blades of grass. A reel mower should have between three and seven blades, depending on the model type.
Golf courses are most often cut with reel mowers which are pulled by a tractor.
A Reel mower pushed by people does not cut very high grass as well or as easily.
However, once the lawn is under control, the scissor-like cut of a reel mower is healthier for the lawn.

Specific information about the Brill Razorcut 38 Reel mower>>
A Reel mower snips the grass, cutting each blade like a pair of scissors. It's a precise, clean cut that makes for a healthier and more attractive lawn.
Rotary Mower
A Rotary Mower is a mower in which the blade spins horizontally (east to west) and uses a sucking and tearing action to cut the blades of grass. Rotary mowers usually have one blade which rotates very fast. The rotary mower design is simple and adapts very well to small engines. Rotary mowers can cut a wide variety of grass conditions. Rotary mowers are usually powered by gas engines or electric engines.
Mulching ("Grasscycling")
Mulching means laying a "blanket" of organic matter over the lawn which helps to retain moisture and add nutrients. With the cutting action of a reel mower you can leave reel clippings on the lawn. A reel mower creates a fine spray of clippings that act as a mulch and decompose quickly, releasing nitrogen into the lawn. Over the course of a cutting season, that mulch is equivalent to a free application of fertilizer.
Many states (24 at this writing) and Washington, D.C., have passed laws banning the disposal of yard waste, including grass clippings in landfills. According to the Composting Council, yard trimmings are the second largest component of municipal solid waste (18 percent or 35 million tons).The Professional Lawn Care Association of America is promoting Grasscycling. This term means either composting or mulching the clippings where they are produced.
Info to Help You Make the Switch to a Reel Mower ::
Resources ::
PPM has enthusiatically developed an outreach page for gas mower emmissions and related research. Find: