BMW Design and Engineering + Eco-mission
Finally released in March 2007! This home recycling center with compaction and collection is designed by BMW Designworks with the mission of making recycling simple and rewarding.
How it Works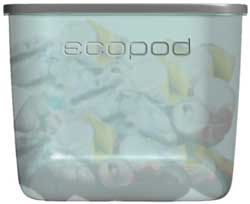 insert aluminum cans and plastic bottles into the top, and step on the pedal to hear the sweet sound of compaction via the patented ecostep system.
flattened containers automatically fall into a portable pod
pod can hold between 50-60 crushed containers and slides out for easy transfer to a curbside recycling bin.
there's also separate area that can hold glass bottles, newspapers, plastic bags and other materials.
built of brushed stainless steel and plastic, this bmw-designed product actually looks great in your kitchen.
16" x 20 1/2" x 31" high
built of brushed stainless steel and plastic
crushes plastic and aluminum beverage containers (up to 24 fl. oz.)
stores fifty of them in a plastic pod that slides out for easy transfer to a curbside recycling bin
2 more pods for holding newspapers, glass bottles, plastic bags and other recyclables
Manually operated by a foot pedal, the crushing mechanism includes a child-safety feature
comes in black or white
additional bottom pod available
Video coming soon. In the meantime, here is an animation to show how the ecopod recycling system works.
Ecopod Wins iF Product Design Award
The ecopod is the world's first home recycling center with valuable iF for outstanding design in mind for everyday use in the home and office.
Manuals
Coming Soon
Assembly
This will require the installation of 6 allen bolts. We will ship a small allen wrench in each ecopod. This packaging will allow us to reduce the eco impact of our shipping.
Warranty
For a one year period after purchase.
Return an unused unit within 30 days for a full refund less shipping costs and a $10 restocking fee. Due to the biological implications of waste, returns generally not accepted after contact with food waste.
Shipping
Return Policy